News
6 PNJP Artisans Were Honored The Award of Excellent Jeweler
December 15, 2020, the ceremony to honor the artisans who owns excellent achievements in this industry was organized at the Vietnam – Soviet Friendship Cultural Palace, Hanoi. There are 9 artisans who were conferred by the President with the title of excellence in the jewelry industry across the country, of which 6 artisans come from PNJP  – a member of PNJ Group.
Forbes Vietnam has applied the valuation method of USA, based on brand's contribution to business performance, earning per share (EPS), pre-tax earnings and debt, market share and consumer awareness, etc. Numbers are calculated based on the company's financial statements.
Forbes Vietnam said: "We do not mention monopolies, wholesale or brands that do not affect consumer behavior." Thus, the retail segment and the ability to influence consumer behavior become two of many important criteria to vote for the Top 50 list this year.
"Honored artisans are authorized to preserve the quintessence of traditional crafts. They make a great effort to contribute in the development of industry, creating new works valuable in economy, technique and artistry which satisfy the increasingly diverse needs of the market; simultaneously transfer the passion in working to the next generation and make an important contribution in bringing the handicraft products of Vietnamese brands to the world. Many handicraft products have been selected as gifts to heads of countries visiting Vietnam; serving the State's foreign affairs in recent years."
Industry and trade has been growing rapidly in the last 5 years. The average industrial production index increased by 9.5% / year, the average total export turnover increased by 11.5% / year, especially in 2020, in the context of complicated epidemic and a serious recession in the world economy, the industry and trade made great efforts to achieve the highest set of targets.
Industrial production index is estimated to increase 3.1%, export turnover is estimated at over 254.9 billion USD, of which the handicraft industry is estimated at 4 billion USD. The handicraft industry has been playing an important role in economic activities. Handicraft products have been exported to 163 countries and territories.
To become a good craftsman in this industry, they must constantly learn. In addition to their solid professional knowledge, they need to be creative in hands and minds. Artisans must train their hands to be talented to 'breathe soul and life' into the product; mastering skills in the profession such as emerizing, polishing, plating, stones setting, etc. "After completing a product with hundreds of small details, the professional knowledge is bold in my mind. Even if the drawing is not in my hands right now, I can create a product exactly like the previous one, because I love my job so much ", shared by Artisan Ngan Vu.
PNJP always has a desire to bring the jewelry industry of Vietnam to the world. Back to 30 years ago, when there was no jewelry training school in the country, with the desire to build a good workforce, PNJP was a pioneer in studying abroad, inviting experts and expanding the workfoce by in-house training programmes. Here, artisans are sent to train in many countries around the world such as Germany, Denmark, Italy, Singapore, Thailand … to learn the quintessence of developed countries in the industry, from which to apply in the industry, transmitting to descendants. Most of the artisans honored this time are the teachers who have directly taught and trained hundreds and thousands of jewelry craftsmen and students at PNJP. Artisans are fully expererienced with extensive knowledge. At the same time, they are able to combine traditional crafting techniques and modern machinery to teach the juniors who are working and studying jewelry making at PNJP.
In jewelry industry, along with the talent, artisans are required to put their hearts in their jobs. "A creative idea, good hands are not enough, but we also have to earn trust from our customers. Once you are skilled and reputable, your profession will bring you many uncountable values" said Artisan Nguyen Tien Hoang after many years of gathering experience to become a good jeweler. People are the foundation of PNJ's house. They owns qualities that have been tempered and challenged over years – being honest in their living and working, loving each other and fighting for good things. PNJP is a place to help them develop themselves and flourish in their careers.
In October 2020, PNJ group was honored to become the best jewelry enterprise in Asia – Pacific, making PNJ – the Vietnamese jewelry brand name the leading brand in Asia and the world, and during this journey, it is indispensable contribution of the awarded artisans and more than 1,000 skilled jewelers working at PNJP.
6 PNJP Artisans were honored the Award of Excellence in the jewelry industry in 2020:
Artisan Nguyen Duy Hung: He is currently a craftsman, also a teacher with high expertise in crafting all jewelry categories. In 1995, at the jewelry contest organized by Saigon Jewelry Company Limited (SJC), Mr. Hung won the first prize with the choker named "Peace" . In 1997, his work – bracelet won the 2nd prize. In 2005, Mr. Hung was awarded the title Artisan by the HCMC Jewelry Association of Gemstone and Jewelry. Currently, Mr. Hung is Head of the hand-crafting department at PNJP.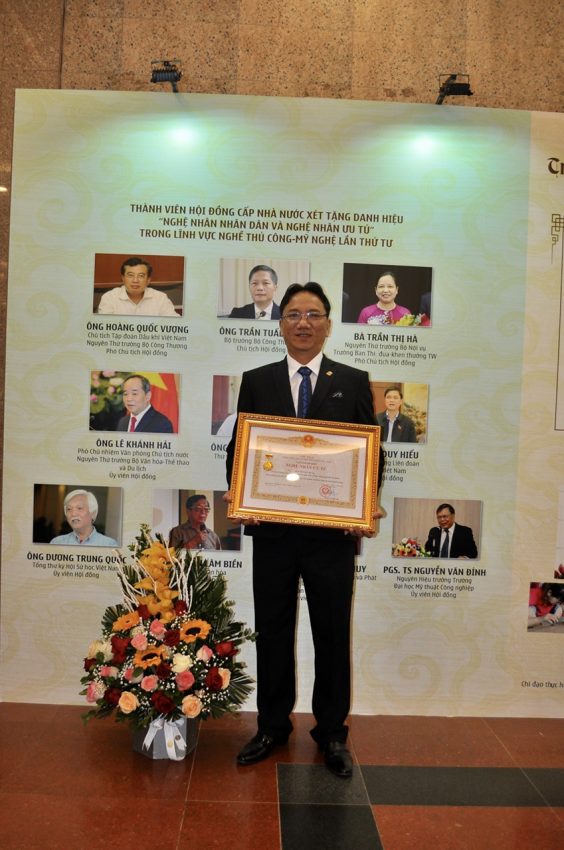 Artisan Mai Anh Thi: He is capable of crafting all kinds of jewelry by traditional handcrafting techniques from designing to finishing. His winning works include "Sound of Autumn", "Fireworks"; "Flower". The necklace hand-crafted by him is selected to display at Temple of the Jewelers Craft in HCM City – the National Historical and Cultural Relic.
Artisan Tran Ngoc Ngan Vu: He is in charge of processing jewelry and training jewelry crafting specialists. His winning works include "Blossom" – the first prize; "Dragon Flying" – the first prize; The "Peacock Feathers"- the 3rd prize of the contest organized by SJC Association and Gold Council. In 2003, Mr. Vu was awarded the title Artisan by the HCMC Jewelry Association of Gemstone and Jewelry, receiving the certificates of merit of HCMC People's Committee.
Artisan Phan Van Tien: Many apprentices, even skilled goldsmiths respectfully call him "Master Tien" thanks to many unique anecdotes about him in this industry In 2005, Mr. Phan Van Tien was awarded the title Artisan by the HCMC Jewelry Association of Gemstone and Jewelry. In 2018, his work – brooch named "Happiness" was displayed at Temple of the Jewelers Craft in HCM City – the National Historical and Cultural Relic.
Artisan Pham Bao Phat: He is able to craft 100% manual jewelry, semi-handmade products, export jewelry; processing high-quality molds and masters according to local and global standard. His typical works include hand-setting bangles, rings, earrings, bracelets, necklaces, etc that won many awards at prestigious competitions. In 2003, he was awarded the title Artisan by the HCMC Jewelry Association of Gemstone and Jewelry.
Artisan Nguyen Tien Hoang: In 2004, Nguyen Tien Hoang won the prize with the work "Soul of Vietnam" at the Ho Chi Minh City Jewelry Contest organized by PNJ and the World Gold Council. In 2011, Nguyen Tien Hoang was awarded the title Artisan by the HCMC Jewelry Association of Gemstone and Jewelry and recognized by the World Gold Council when he was 36 years old.