News
Breakthrough In Forbes Vietnam Ranking – Top 50 Most Valuable Brands
According to Forbes Vietnam, the brand value of PNJ in 2020 will reach 94.1 million USD, an increase of 15.5 million USD compared to the review period of 2019, up 3 steps to the 21st and continue to maintain the leading position in the personal consumer goods industry. PNJ is also the only jewelry brand in Vietnam to appear on the chart.
Forbes Vietnam has applied the valuation method of USA, based on brand's contribution to business performance, earning per share (EPS), pre-tax earnings and debt, market share and consumer awareness, etc. Numbers are calculated based on the company's financial statements.
Forbes Vietnam said: "We do not mention monopolies, wholesale or brands that do not affect consumer behavior." Thus, the retail segment and the ability to influence consumer behavior become two of many important criteria to vote for the Top 50 list this year.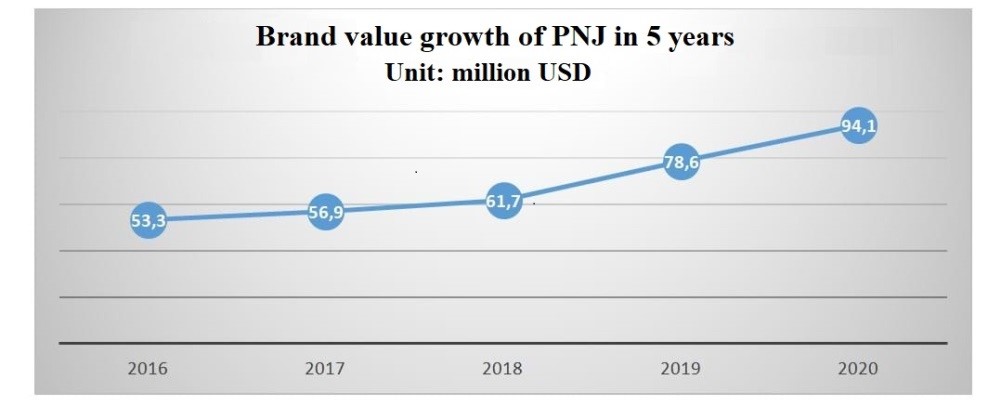 PNJ has continuously promoted the re-positioning of business strategy to create business model evolution from production and sales to professional retail and value chain. This process happens at the same time with the re-segmentation of consumer sentiment. This is one of the points that PNJ comes up with their own designs, suitable to the personality, aesthetic point of view and style of each segment.
Smart camera systems in the store and big data analysis are also applied to stay ahead of the trend. The multi-channel data collection is applied, combined with the expanding and optimizing the retail network to promote the continuous growth of the retail segment.
And in the past year, PNJ has also made a deep impression with the success of the media campaign, named True Love. The humanistic values from True Love have strongly attracted the attention of consumers, especially young people. This campaign won the category of Excellent Global Media Campaign recently voted by PR Newswire.
Also in 2019, the value and prestige of the PNJ brand continued to be affirmed when fully met all of Walt Disney's most rigorous requirements to become one of their partners.
In addition, PNJ was voted as the best retailer – "Outstanding Enterprise of the Year" in the jewelry industry by the leading jewelry magazine – Jeweler News Asia (JNA), the recognition of the market transparency, consumers interests protection, competitive differentiation, customer experience value, as well as made an important contribution to the development of the regional jewelry industry. Besides, in this year's JNA award, PNJ continued to be listed in 3 categories: Manufacturer of the year, Sustainability Initiative of the Year and Excellent Enterprise in the APAC.
The rise to 21st in the Top 50 leading brands in 2020 showed that PNJ continues to strongly breakthrough. Last year, PNJ ranked 24th in the Top 50 with a brand value of 78.6 million USD, up 2 places and up 17.6 million USD compared to 2018.