News
PNJ CEO Le Tri Thong – Top 10 Best Young Entrepreneur
Just turning 40 this year, PNJ CEO, Mr. Le Tri Thong is honored in top 10 best entrepreneurs which inspires many young Vietnames businessmen generations.
On 18 December, 2019 – the Vietnam Youth Federation Central Committee, in collaboration with the Vietnam Young Entrepreneurs Association (VYEA) and the Red Star Entrepreneur Club, held a ceremony to honor 100 young entrepreneur faces and 10 red-star the best young businessmen in 2019. This award is considered a proud symbol of young Vietnamese businessmen generations who have committed and contributed to the formation of a sustainable business community. And Mr. Le Tri Thong, General Director of Phu Nhuan Jewelry Joint Stock Company – PNJ is honored in top 10 best entrepreneurs.
Mr. Le Tri Thong is a young businessman just turning 40 years old. After graduating MBA from Oxford University, Mr. Le has continuously experienced many senior management positions of leading many top companies and organizations in Vietnam as well as leading international corporations with impressive achievements. In 2017, he joined PNJ with the expectation of creating a breakthrough and sustainable long-term growth. In fact, he, together with PNJ's Board of Directors, strategically repositioned, transformed the business model, towards a professional retailer. At the same time, he promoted the digitization process in order to develop, optimize resources and improve the multi-channel sales model. And in fact in 2019, PNJ has been voted as the number 1 retailer in the Asian jewelry industry.
"Return what was fortunately received from society and life", Mr. Le has constantly made efforts to participate in activities to contribute a corporate environment for the development of startups, especially inspiring, transferring skills and experiences to young people. Mr. Le is currently Vice Chairman of Vietnam High Quality Goods Association, Vice Chairman of Vietnam Association of Financial Investors (VAFI), Vice President of Vietnam Gold Business Association, Member of the BOD of the Leading Business Club (LBC), etc. and holding important positions in many other social and professional organizations.
It is known that the Red Star Award this year aims to honor entrepreneurs who have made real efforts and have contributed to the development of businesses, the community as well as activities of the young entrepreneur movement. So from your personal perspective, can you share the efforts that you have made over the years?
Mr. Le Tri Thong: My working efforts over the past time do not aim at the award, but the award today is coming from the effort I made.
In terms of business management, I have gone through many businesses, worked as a leader in many businesses and wondered if Vietnamese businesses have the same problem that when they grow to a certain extent, there is no space for development at that time they must restructure. I struggled to find solutions to those problems, and that is why I joined BCG Management Consulting Group. At BCG, I learned how to solve problems, learned how to restructure the business. But international experience must be localized to apply to Vietnamese businesses and that is what I learned from Prudential. When I joined PNJ since 2017, I have applied my accumulated experiences to manage and get good results, speeding up PNJ's development as today.
As attending community activities, I have been an officer of HCM Communist Youth Union since I was in school, an officer of the urban planning of the city, so it's still in my blood. When people finish studying they choose politics career path, but I choose the business instead. As doing business, I also work as a youth union officer, participating in the movements contributing a lot to society, young people and the Young Entrepreneur Association. At the Vietnam High Quality Goods Association, I joined from the beginning and is currently the vice president of the association, I am also a member of the Ho Chi Minh City YBA Association for 3 consecutive terms, Financial Investment Association, Vietnam Gold Association …
To be a successful young entrepreneur in Vietnam, what are your plans to improve the personal image and the business you are running in the eyes of society in the future?
The most important thing when becoming a Red Star entrepreneur is to learn from the brothers and sisters who go first – they will transmit experience, positive energy to the younger generation of entrepreneurs to lead the business. As a young person in the club, I also had the opportunity to approach the management methods of the predecessors, the experience, knowledge from the previous entrepreneur class, combined with the management method of the industry 4.0…. These will be good steps to help me continue the program of the business community contributing in the city and nationwide.
As for PNJ, we continue our path, being the best retailer in Asia, and with a vision for the coming time as the strategy set out from 2017 to 2027 to make PNJ a leading company in Asia, with the development of the retail system outside of Vietnam as well as other international products come into the domestic market.
Many Red Stars predecessors are billionaires, such as Mr. Tran Ba Duong or Mr. Tran Dinh Long, etc. when do you think you will also become one of the billionaires?
I think the billionaire is not the target; it's the result of the working process. Personally, I and PNJ do not aim to become a billionaire. But with the country's growth in the 10-year vision, Vietnam will become one of the fastest growing economies in Southeast Asia, Vietnam will have more billionaires, and members of the Red Star Club will inspire each other to make the mighty Vietnamese dream come true.
In 2019, there are only 2 weeks left, can you share the business results that PNJ has achieved?
In 2019, PNJ sets a quite ambitious target with more than 800 million USD in revenue and 60 million USD in profit before tax, although the market has slowed down in second and third quarter. But we will complete the plan thank to continuous solutions.
In addition, in 2019, PNJ also rose to the number 1 position in Asia for the best retail, PNJ is also recognized as the best workplace environment, a sustainable development enterprise domestically and internationally. That is an achievement and a premise to go further in the development strategy.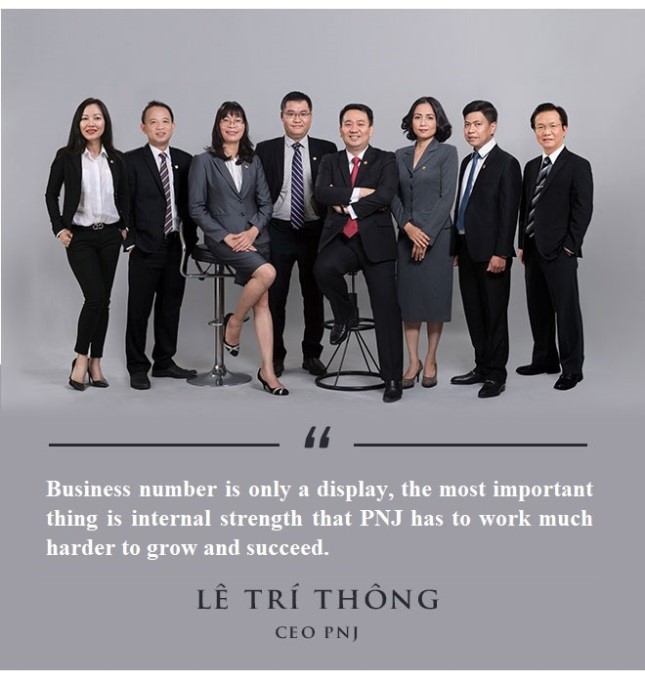 What make you feel most satisfied and most successful in 2019 in the business?
It is not a business result, but a foundation newly built. Previously, PNJ was built on domestic sales and manufacturing, but by 2018, 2019, there will be a new class of management capabilities, management practices according to international standards, solving issues related to developing internal resources, gaining new capacities, having stronger structure,  and leading PNJ to reach the international market.
Business data is only an external display, the most important thing is internal strength because we have to work much harder to grow and succeed.
For 22 consecutive years of winning the title of High Quality Vietnamese Goods, 2019 ranked No. 1 in Asian retail and recently corporate with Disney. Are these the signals, the turning points for PNJ to enter the international market?
PNJ goes abroad step by step, the first is the product of PNJ to the market. Currently, PNJ's products have been exported to about 10 countries around the world, but not strongly because the retail system has not been opened in foreign markets. The proportion of exports in the total revenue of PNJ is also very small because the feature of the Vietnamese market is that the gold price is higher than the international price as well as some disadvantage policies. Therefore, development orientation for export activity is the long-term path.
There are only about a dozen companies cooperating with Disney in the global jewelry industry, because their standards are very high, even higher than the criteria of the most well-known awards. They appraise products, factories, environment, and the method of organizing production, etc. Commercial cooperation is a step for product improvement, and then PNJ will go further in the future.
When going global, the important thing is the needs of the market. In the recent period, PNJ has collected and researched the foreign customers and market a lot, so we're totally confident with our product value to meet the demand.
And I also affirm that PNJ is still concentrating on the domestic market, rapidly developing the domestic market because there is still room for growth in the market.
It seems that PNJ is focusing on the North market recently?
PNJ focuses on the whole country, not any specific local. Recently, in the North, we have concentrated more. In the past, we invested a lot in the South that was not enough to invest in the North but now with full of conditions we could boost up. The Northern market also considerably grows, which rate is much higher than the Southern market because of the small base, so we will continue to invest properly.
PNJ retail distribution is currently more than 360 stores, increased rapidly in the number of stores but is slowing down in 2019, why is that?
Currently, PNJ has been available in 55 out of 63 provinces and cities with 364 stores. In 2020 we will continue to expand our distribution in some provinces. There will be both traditional and modern shops like PNJNext just opened in Hanoi. Traditional stores will serve all types of customers, while PNJNext will design for young customers who want to experience and have a better interaction.
The expanding rate is 40 stores like last year, 50-60 stores in years ago are quite tough in the retailer market. We realize that the important things are that PNJ's market view and demand approach, retailer growth but we must ensure the highest quality and service for our customers.
Besides, the development of e-commerce helps PNJ sell online without the opening of more stores. Customers can select product online before going to the store to buy. Opening a new store is more expensive. Therefore doing like this helps businesses control costs well.
Watch trading has strongly competitive participants, such as The Gioi Di Dong or DOJI Jewellery, so is PNJ concerned about competitors?
Competition is usual in business, retail or any industry. What PNJ aims to do is bring the best customer experience. For example, the prices of PNJ and other businesses are the same, but the space of PNJ is different, the technician department is also different. Specially, a consultant helps customers to choose watches according to the fashion and style of customers, not selling products to only check the time. Watches matched with jewelry and accessories are the difference of PNJ.
PNJ also targets high-end products, the average price of PNJ products is about 150 – 200 USD or more, while in other places, the price is lower, not having much fashion feature. We do not focus on the quantity but rather the customer experience and the customer returns rate. The middle class is rapidly growing, so PNJ's direction is absolutely different.
In addition to gold and silver jewellery, gemstones, watches, and glasses, will PNJ sell more new items next time, sir?
Definitely. I can not share at this time, but they're still products related to fashion, accessories.
How do you forecast the jewelry and metal market in 2020?
This will be a year with lots of opportunities for growth. The trade war has affected many countries and regions such as Singapore, China, and Hong Kong which have slowed down … but Vietnam is less affected. Next year's purchasing power will continue to be good. We have prepared resources for development, facing market developments not only for 2020 but also for the following years such as 2021, 2022./.